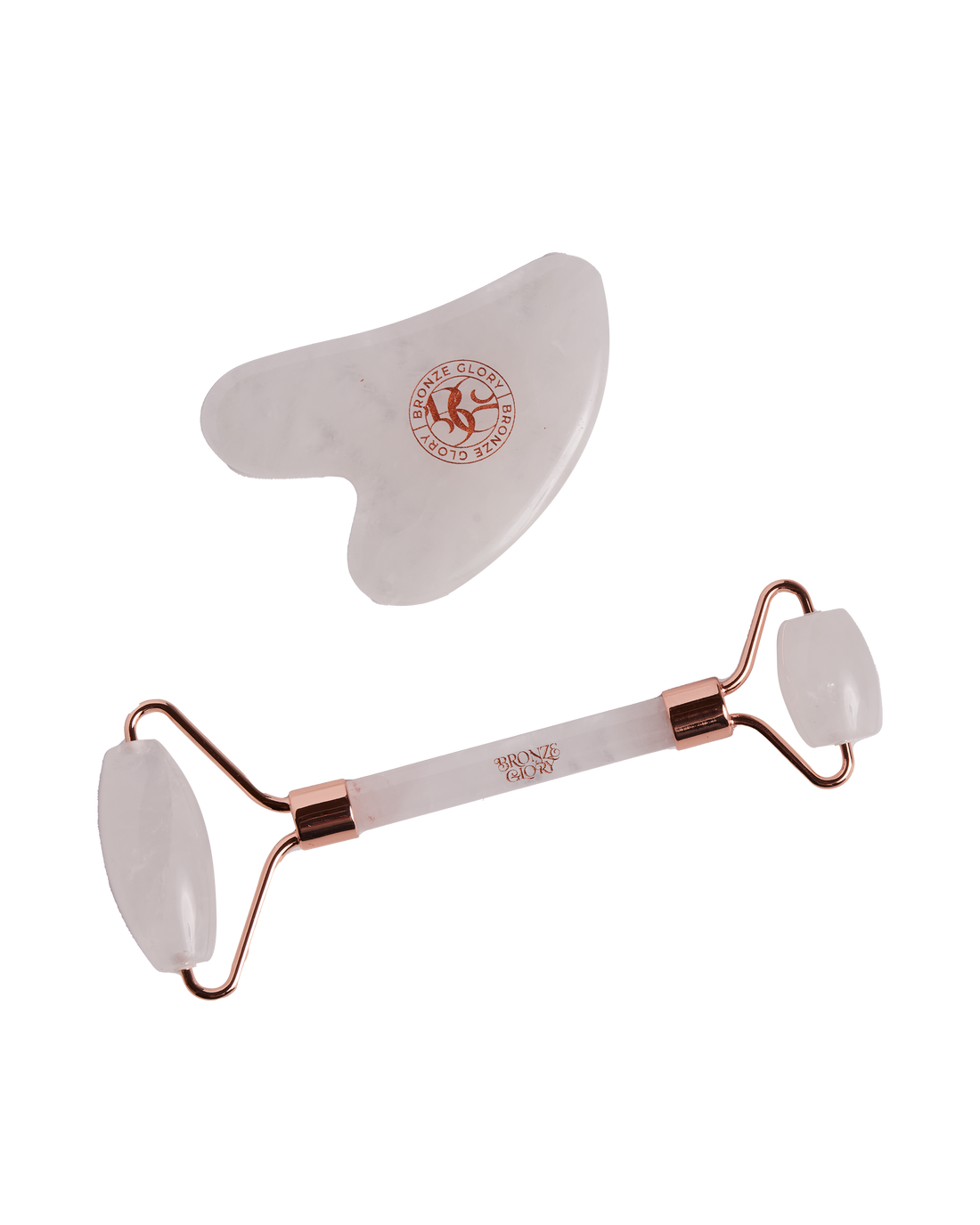 Clear Quartz Facial Roller and Gua Sha
Clear Quartz Facial Roller
Elevate your skincare routine with Bronze Glory's Clear Quartz Facial Roller. Known as the "Master Healer," clear quartz is a powerful healing stone that has been used in skincare practices for centuries. Unlike other healing stones, clear quartz is high in silica, an effective mineral for cultivating and maintaining radiant skin. Gently roll this tool in an outward motion across the face for a calming massage. 

Benefits include:

Contours the face

Promotes lymphatic drainage

Reduces puffiness and inflammation

Facial massage naturally boosts collagen
Gua sha (pronounced gwah-sha)
Lift and sculpt tired skin with Bronze Glory's Gua Sha Facial Lifting Tool. Gua Sha has been used in Chinese beauty routines as a scraping tool that improves circulation and blood flow for ageless, glowing skin.  

Benefits include: 

Reduces facial tension

Smoothes fine lines and wrinkles

Stimulates acupressure points and reduces stress

Reveal a more contoured and smoother appearance
How to use the Clear Quartz roller:
- Apply Bronze Glory SRM or MSTRZR
- Gently place the large end of the roller at the base of the neck and roll upward.
- Continue this upward rolling motion on the face using light pressure.
- Use the smaller end of the roller underneath the eyes and on any delicate areas.
- Do not use the roller on eyelids. Use daily for best results.

For a relaxing spa-like experience at home, store the roller in the refrigerator for a refreshing facial massage. Due to variations in the natural stone, each roller has a unique color and pattern.

How to use the gua sha:
- Apply Bronze Glory Moisturizer
- Place the Gua Sha at the base of the neck and use a gentle, scraping motion upwards toward the jawline.
- Continue scraping upwards, covering the chin, jawline, and mouth areas.
- Using the tool scrape outwards across the cheeks, under eyes, and across eyebrows.
- Continue scraping upwards on the forehead into the hairline area.

The gua sha can be used 1-3 times a week to contour and soothe overworked facial muscles. Follow the directions to push unwanted fluid towards the lymph nodes.

Clear Quartz Rock Crystal